Financial donations received by REACh International will go toward spreading the Gospel of Jesus in part of the most unreached parts of the world, Eastern Asia, that holds little to no Gospel Witness for Christ! Here 80+% have
never heard the gospel of Jesus before!
Partnership/Supporting/Holding the rope:
Acts 9:23-25 And after that many days were fulfilled, the Jews took counsel to kill him(Paul): But their laying await was known of Paul. And they watched the gates day and night to kill him. Then the disciples took him by night, and let him down by the wall in a basket.
When Paul first came to Christ, the religious Jews sought to take his life. The disciples immediately came to the aid of Paul and helped him escape death by letting him down the city wall in a basket by a rope. Stop and think about what these early disciples did. They partnered together with Paul to choose life over death! They supported Paul and held the rope for him. They not only saved Paul's life, but the lives and eternal destinies of all the lives that Paul would touch and share the Gospel of Christ with. Think of all the lives still being touched by the books of the bible that Paul wrote by the Holy Spirit. Today as a Christian, we too are a life that was affected by the ministry of Paul. So, in essence, they partnered with Paul to help bring life to you and I instead of death! This is a powerful insight!
We are asking you to partner with us to help bring eternal life to the People of Eastern Asia! Will you help us reach these nations with the Life & Message of Christ, to restore them from the enemy's plot of death? Will you help hold the Rope for us that will touch and reach the lives of many other Asian Nationals that will evangelize and reach their own people for Christ? Please ask God if He would lead you to partner with us financially to "Hold the Rope, to Reach Eastern Asia with the commission of Christ! By partnering you are helping us touch lives for Eternal Rewards!
HOW YOU can HOLD the ROPE for people in East Asia: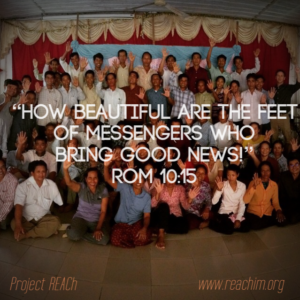 1. PRAYER/ help supply a prayer support base for God's oversight, leading and protection for all that we do ministerially and for the salvation of Asian nationals in East Asia!
2. GIVING/ help financially enable us to reach and teach the nationals of these nations to share Christ. There can't be goers without senders- Rom. 10:15 !
3. GO/ if you are a seasoned teaching minister or Pastor, you can help come to Asia to teach and minister to these precious nationals who so desperately hunger for God's Word!
For Giving/Partnering with financial support
The Easiest way is to do so by

Giving Online

through our Secure site:
Or Give by PayPal:

Note that all

Giving

is Tax deductible
REACh

International

Ministries

, Inc. is registered as a U.S. 501c3 non-profit ministry.
When giving by Check, you can make your check directly out and mail to:
"REACh International Ministries"
And then mail to:
PO Box 727, Branford FL 32008
We want to personally thank each and everyone of you who have partnered with us to Serve on the Mission Field! It is a honor and a Privilege to represent the Name of Christ in these Nations. Thank You!
Philippines 4:17

"Not that I desire the Gift, but that I desire the fruit that may abound to your account because of your giving!" Thanks to all that make it possible for us to continue to fulfill Christ's Commission to the people of Eastern Asia!